Novels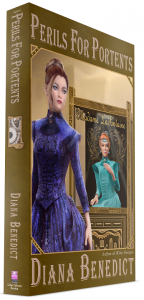 Perils for Portents

San Francisco, 1890s
Francie, an entrepreneur, wants to travel the world and make her fortune.
Rooney, her mechanical savant brother, wants to tinker in his uncle's shop.
Mrs. La Fontaine, the ghost haunting the fortunetelling machine, wants to stay right where she is.
Big Jim, the carnival manager, wants to kill Francie to keep his murderous past a secret.
Not everyone is going to be happy.
But fortunes will be told and, possibly, made.
    
Anthologies

Fiction River: Sparks (Volume 17): "The Laser Point"

Everyone faces dark times. Everyone looks for a light to get through. These fifteen stories show teen heroes/heroines using creativity and heart to find their inner "spark" to overcome adversity, evil, or ignorance. These compelling young heroes/heroines prove sometimes it simply takes a spark to light a fire in the darkness. "If you haven't checked out Fiction River yet, you should. There's something for everyone." —Keith West, Adventures Fantastic



Fiction River: Alchemy & Steam (Fiction River: An Original Anthology Magazine Book 13): "Pennies for Portents"
Alchemy changes more than dross into gold. It changes steampunk stories into stories of magical transformation. These thirteen stories combine science and magic into do-not-miss alternate history stories that span the globe. Travel with a soul-stealing carnival, meet the Grand Dangoolie, put on some perfect perfume, and sample some magical chocolate. These adventures grace the pages of the most creative volume of Fiction River yet.
"If you haven't checked out Fiction River yet, you should. There's something for everyone."
—Keith West, Adventures Fantastic
"… fans of the unconventional will be well satisfied."